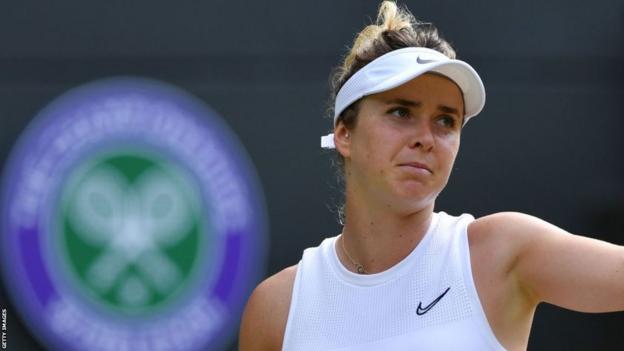 Russian and Belarusian athletes must be banned from this year's Wimbledon and the Paris Olympics while "innocent Ukrainians are still being killed", says Ukrainian player Elina Svitolina.
Wimbledon is yet to announce if the ban it imposed last year will continue.
The International Olympic Committee is "exploring a pathway" to allow Russians and Belarusians to compete in 2024.
"The war is still there. The decision should not be any different," said 2019 Wimbledon semi-finalist Svitolina.
The All England Lawn and Tennis Club, which organises Wimbledon, has not yet said if it intends to maintain its ban on Russian and Belarusian players at this year's tournament.
Both the AELTC and the Lawn Tennis Association (LTA) were fined for banning players last year and the tournament had its ranking points removed.
Belarusian Australian Open champion Aryna Sabalenka has previously said "no-one supports war", but added she had "zero control" over Belarusian politics and "cannot do anything" to stop the war.
Russian world number five Andrey Rublev, who appealed for peace last year by writing 'no war please' on a television camera after a match, said another Wimbledon ban "would be the worst for tennis".
"I hope they will do the same thing and keep the ban in place. I don't think it should change," former world number three Svitolina, who is starting her comeback from maternity leave, told BBC Sport.
"There are still people suffering and still Russian soldiers killing innocent Ukrainians."
'The neutral flag is not changing anything'
The IOC announced last week that it would consider allowing Russian and Belarusian athletes to compete in Paris 2024 under a neutral flag, saying "no athlete should be prevented from competing just because of their passport".
Ukraine has threatened to boycott the Olympics if it happens. Up to 40 countries could join them, said Poland's sport and tourism minister Kamil Bortniczuk
"I don't think the neutral flag is changing anything," said Svitolina, who won a bronze medal in the women's singles at the 2020 Olympics.
"I see a lot of comments that sport should be out of politics but Russian sport is a big part of their politics.
"Hopefully we don't have to make this [boycott] decision because this would be sending a wrong message."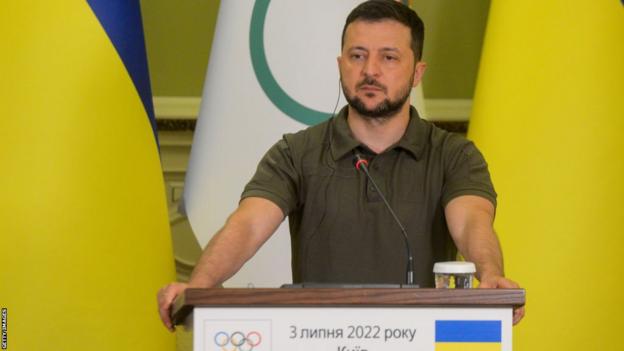 Svitolina, 28, questioned why athletes should not be punished by sanctions like ordinary Russian and Belarusian citizens who might also be anti-war.
"Why is it different? We have to sanction Russian and Belarusian people in general because of what they governments are doing. This is my view," she said.
"I have nothing against particular athletes. But how else can we stop this war?
"We should sanction the people from Russia and Belarusian as much as possible because their governments are doing these severe things in Ukraine.
"The sanctions will stop these governments doing what they are doing."
'Low electricity leaves 85-year-old grandma walking up 13 floors'
With the anniversary of Russia invading Ukraine approaching on 24 February, Svitolina says she wants to use her position as one of Ukraine's most prominent athletes to ensure people across the world are "not forgetting" about the war and its impact.
Svitolina, along with former Ukraine football captain Andriy Shevchenko and heavyweight boxing champion Oleksandr Usyk, is one of the ambassadors for the United24 fundraising platform set up by President Volodymyr Zelensky.
The donations are helping rebuild the country – including its infrastructure, residential homes and hospitals.
Ukraine says 27,000 buildings have been destroyed in the Kyiv region, while many hospitals and ambulances have also been attacked.
Svitolina was born in the port city of Odesa, which has regularly been hit by missiles as Russia targets Ukraine's energy network.
As a teenage tennis player she trained in Kharkiv. Ukraine's second city has been relentlessly bombed and is where Russian forces were successfully forced back from last year.
"The big cities have been destroyed and that is very sad to see," said Svitolina.
"When I speak to my friends there they are not thinking about the sad moments or what it was before, they are only thinking about how they can win, beat the enemy and looking to the future how we can rebuild cities and the country."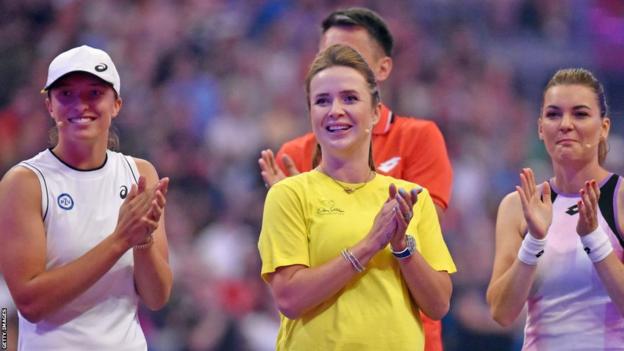 Svitolina uses personal examples of how her family and friends are being affected – including her 85-year-old grandmother who is still in Odesa – to paint a stark picture of the ongoing situation.
In temperatures below freezing, many areas do not have electricity as Ukraine's energy system struggles to supply the demand. There are caps on how much electricity people can use and some of the most stringent restrictions are in the Odesa region.
"My grandma lives on the 13th floor of an apartment block and she has to walk up the stairs every day because she is scared to get stuck in the elevator," said Svitolina.
"Any time of the day electricity can go off and you be trapped in this elevator for hours. It is extremely tough for older people.
"There are lots of day-to-day issues that everyone is trying to manage in a good spirit. The war is still in the country and we have to keep our spirits up for fighting the enemy and to find this strong spirit to continue every day in this horror."
'Returning to tour as a mum was always the plan'
Svitolina describes 2022 as both the "happiest"and "most tragic" year of her life after giving birth to her first child Skai – who she discovered she was pregnant with shortly after the outbreak of the war.
Skai was born in October and Svitolina – who is married to French player Gael Monfils – is back on court and training full-time.
While the two-time Grand Slam semi-finalist is reluctant to put a date on a competitive return – or name a tournament – she did not rule out it could be during the European clay-court swing which culminates at the French Open in June.
"I'm taking it slowly for now, playing with Gael and working on my strokes, hitting lots of balls," said Svitolina, who had not held a racquet for eight months while pregnant.
"Coming back to play was also the plan in my head, but having a baby is difficult physically and mentally. It is a lot of work being a full-time mum, training and going home.
"There are a lot of bright examples – Tatjana Maria, Serena Williams, Victoria Azarenka and Kim Clijsters – who have come back and been successful.
"I'm not putting any pressure on myself. But I'm motivated and ready to work hard and get back on court."