The San Jose Sharks are going to be looking to move some pieces in the near future and one of them will be Timo Meier. He's a player that Sharks management would love to keep, as he would be a valuable piece on any team in the NHL. For reasons that I've previously discussed, it's unlikely that they'll be able to retain his services though and as a result, the pending restricted free agent's name has been floating around in trade rumors for quite a while now. For the fans of teams in the mix who may not be overly familiar with Meier, here's what he can bring to the table.
High-Level Offensive Production
Every team in the NHL could benefit from adding a winger who is consistently around a point-per-game pace. So far this season, Meier's on pace to score just under 50 goals and a total of 80 points if things stuck to the status quo. If he gets traded to a contender and plays top-line minutes with other All-Star-caliber forwards, then those numbers will only increase. With that being said, these numbers aren't an outlier, either. Meier has scored 30 or more goals twice in his career, 30 exactly in the 2018-19 season and his career high to date, 35, during the 2021-22 season. Overall, his game is continuing to improve on a yearly basis and he's just starting to reach his prime.
---
Latest News & Highlights
---
As a result, he's the type of player who may initially be acquired as a rental despite his restricted free-agent status, but those plans can certainly change once his new management sees him don their team's jersey. His offensive production alone makes him such a valuable player that whoever gets him will undoubtedly want to extend his contract long-term. That's not the only important aspect of his game, though. 
Playing an All-Around Game
Meier is a winger who can throw the body, block shots, and be overall effective in his own end while taking very few penalties. He's not much of a fighter, but as he has shown this season when he dropped the gloves with Boston's Brandon Carlo, he's not afraid to either. He won't be in the conversation for the Lady Byng, but despite his power-forward style of game, you should expect him to spend a lot more time on the ice than in the penalty box. On special teams, he's not necessarily the type of guy who should be playing on the penalty kill; however, he'll bring a massive boost to the power play.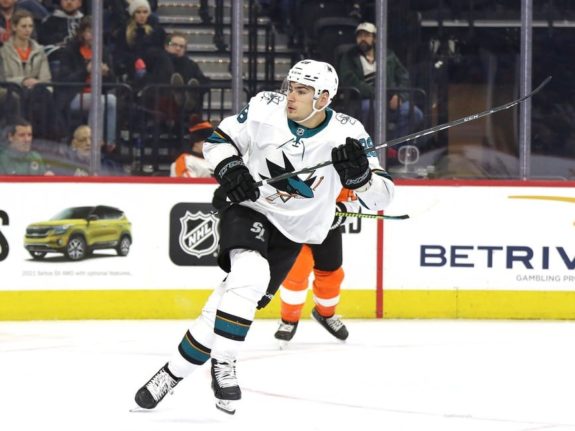 Meier will likely never be in the conversation for the Frank J. Selke Trophy, but he's not going to be a liability defensively either. He's capable in his own zone, which is often a weakness in scoring wingers. His big frame doesn't slow him down, as he can be quite a quick player given the fact that he's 6-foot and 216 pounds. Overall, it's hard to see a more talented all-around player on the market over the coming months. Once Meier is on a contending team, it's likely that his stock will only continue to rise. 
Related: Sharks' Market for Meier Heating Up with 7 Teams Interested
Overall, whatever team ends up bringing Meier into the mix at the trade deadline will undoubtedly be acquiring a star who can be a key piece of their organization for years to come if they're willing to commit financially. His obvious strength is his offensive ability, however, he plays a complete game and will be comfortable in nearly every situation. He's essentially the type of player every team would love to have, however not many can afford him due to the current salary cap environment around the NHL. If he goes to a team on the verge of contending, Meier can certainly be the piece that pushes them over the edge this season and beyond. 
---
---
William Espy is a graduate of California State University, Stanislaus. He has been writing about hockey since 2016 on various platforms. He currently covers the Columbus Blue Jackets but had a previous stint covering the Calgary Flames.