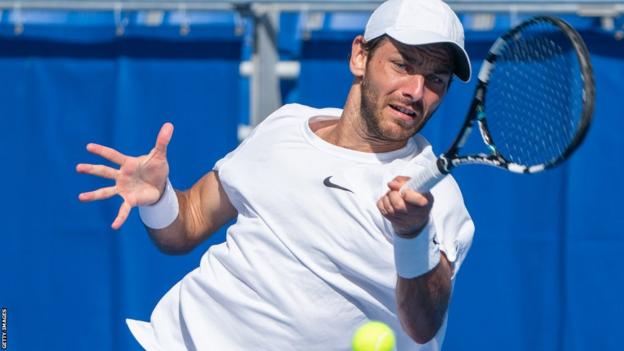 Matija Pecotic said he is going to "have to ask for another day off" from his full-time job in finance after a shock win at the Delray Beach Open.
Pecotic, who came through qualifying, was making his ATP Tour main draw debut against former world number eight Jack Sock and won 4-6 6-2 6-2 in Florida.
The 33-year-old Croatian hit 10 aces and 30 winners in a first-round match that lasted two hours and 10 minutes.
"I had to leave work early, my boss let me off," joked Pecotic.
And his boss watched on from his player box as the world number 784, who reached a career-high 206 in 2015, beat American Sock, who is 143 in the men's rankings.
"You've got to be realistic," said Pecotic.
"This is a former top 10 guy with an incredible amount of tennis experience and a huge serve. He came out serving 134mph on the first serve. It would be arrogant to think I'm going to come out and expect to win.
"But I figured if I could sink my teeth into the match and work on the two or three patterns I prepared before, that I'm going to have a chance."
Pecotic, who will play American world number 55 Marcos Giron in the last 16, came through two rounds of qualifying to reach the main draw but only found out he was competing 30 minutes before the first qualifier after a play pulled out.
"When I was going out to play [Stefan] Kozlov they announced my name as the guy who was originally supposed to play, so they said Kozlov and Watanuki," he said.
Pecotic's tennis career was halted just before the 2016 Australian Open when he was bed-ridden for eight months after picking up an infection following stomach surgery.
However, his love for the sport was rekindled while studying at Harvard Business School. After graduating he gave himself one year to to make his mark in professional tennis but the Covid-19 pandemic ended his dreams.