Shortly after 35-year-old Novak Djokovic despatched another considerably younger player to win a 22nd Grand Slam title, his coach Goran Ivanisevic was asked how long the new Australian Open champion could stay at the top level.
The response probably sent a chill through the rest of the ATP Tour.
"Definitely two, three more years," said Ivanisevic, who has helped Djokovic win seven of his major titles.
"His level is unbelievable. He is from outer space. His brain is working different."
Djokovic, who turns 36 in May, showed all facets of his greatness on the way to beating 24-year-old Stefanos Tsitsipas in Sunday's Melbourne final.
The Serb has won five of the past seven Grand Slams he has played in, although this victory came in a tournament where Spanish teenager Carlos Alcaraz – the world number one before the event and new leader of the next generation – was ruled out through injury.
BBC Sport analyses why Djokovic remains so difficult for the younger players to topple.
The aura
Pretty much every younger opponent talks before a match about treating Djokovic like any other opponent – playing the man and not the name.
But how many truly believe it and don't get overawed?
Greece's Tsitsipas was the last of four players at least a decade younger than Djokovic to be beaten by him in Melbourne.
In the past four years Djokovic has lost only five of the 45 matches he has played against opponents under the age of 23.
Djokovic has won six of his seven Grand Slam finals in that period against players born in the 1990s, with Russia's Daniil Medvedev landing the younger generation's only success in the 2021 US Open.
Tsitsipas insists Djokovic's stranglehold on the younger players isn't a "curse".
"I don't see this as something annoying. This is very good for the sport, to have competitors like him, to have champions like him," said Tsitsipas, who has lost his past 10 meetings with Djokovic.
Whether Tsitsipas sincerely thinks that is a different matter. If he does, it feels like he is an exception.
It has been telling that Russian fifth seed Andrey Rublev and American Tommy Paul – the players whom Djokovic made light work of in the Australian Open quarter-finals and semi-finals respectively – discussed the dread which players feel when seeing his name in their part of the draw.
Rublev, 25, laughed when he said after his last-16 win that he wished Djokovic was in the opposite side – but it was no laughing matter as he became increasingly despondent on the way to a straight-set beating.
"A lot of players have a lot of respect for his game," said 25-year-old Paul, who was also despatched in three sets.
"No-one really wants to see him on their part of the draw."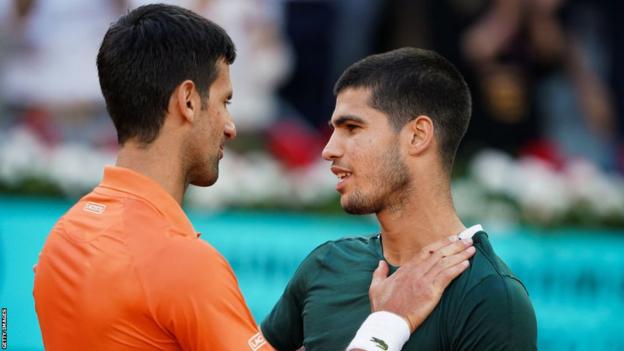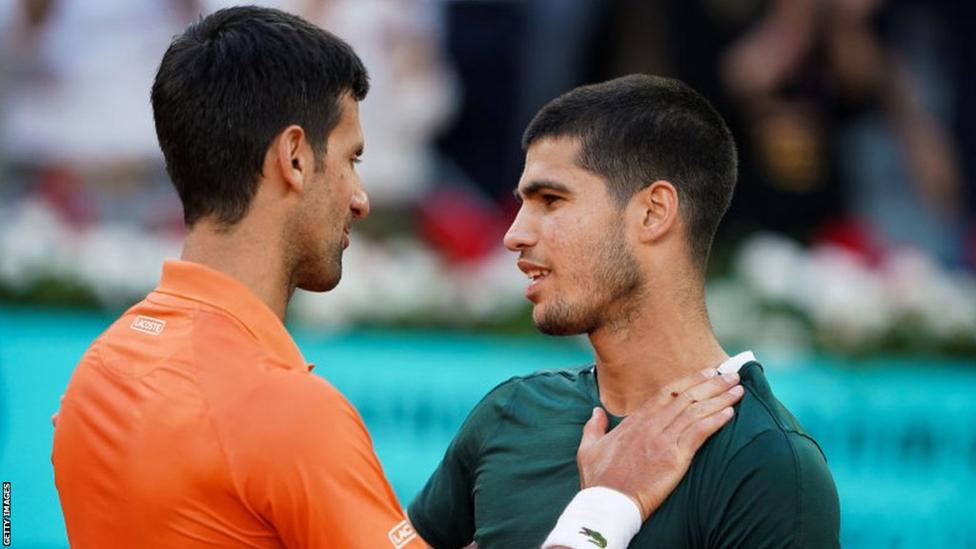 The on-court mentality
When the going gets tough on court, Djokovic gets going.
That is particularly relevant in the biggest moments of the biggest matches and is a key reason why he has won 22 of the 33 Grand Slam finals he has played.
Tsitsipas said Djokovic, who saved 23 of 29 break points during the Australian Open, including two of three in the final, is a player who "pushes you to your limits" on the court.
"He's very important for us that want to get to his point one day. Getting our asses kicked is for sure a very good lesson every single time," he said.
"He has made me a much better player. He has made my levels of concentration higher and higher every single time I get to play him.
"You have to be really involved and you have to be dedicated to the game when you play against him."
The technique and tactics
Everyone has a game plan going into a match against Djokovic. Executing against someone of his talent is another story.
As Paul put it after the semi-final, Djokovic can make them "play so bad".
The American offered some insight into his tactics and how Djokovic neutralised those plans.
"I wanted to serve and volley some. I didn't serve and volley once," he said.
"When I did make my first serve, I felt like he was returning it to the baseline. I was automatically on defence.
"I wanted to throw in drop-shots. I didn't get an opportunity to do any of that because he was hitting so deep.
"I wanted to change up pace with my slice. I missed my first three slices of the match. I was like 'all right, I'm going to start hitting my backhand, I'm not slicing well'.
"He didn't let me do all those things because of things that he did so well."
The body
Djokovic has long appreciated the need to take care of his body to prolong his career and achieve success into his 30s.
He has regularly cited changing to a gluten-free diet more than a decade ago as a recipe for his success.
While he does not consider himself a vegan, Djokovic steers clear of eating meat, fish and other animal-based products.
Taking up yoga and a daily routine of stretches has been key in helping maintain the extraordinary elasticity which he continues to show when chasing down balls on the court.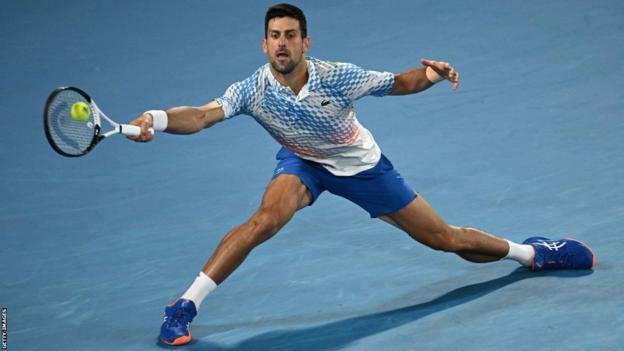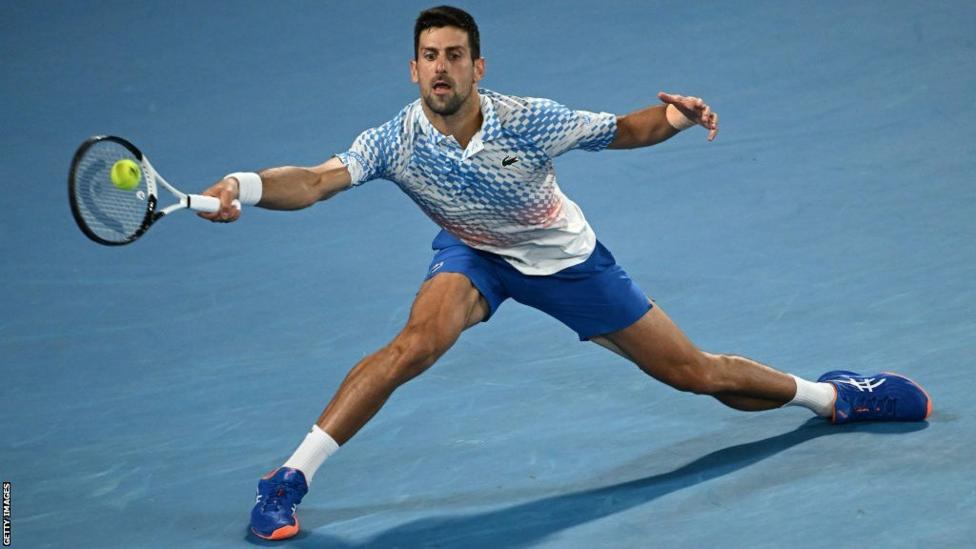 "The way he's taking care of his body, the way he approach about everything, the food, it's amazing. It's unbelievable, the level," said Ivanisevic.
When Djokovic outlined his reasons last year for not having a vaccination against coronavirus, he said he wanted to be "in tune with my body as much as I possibly can".
He added he had "always been a great student of wellness, well-being, health, nutrition".
The resilience
With success comes scrutiny and Djokovic often finds himself at the centre of drama – whether it is of his own making or not.
Last year he was unable to defend his Australian Open title after being deported from the country following a row over his Covid-19 vaccination status.
Djokovic had also been hampered by a hamstring injury at Melbourne Park, which Ivanisevic reckoned would have ruled out "97% of the other players".
"If I turn back the time two and a half weeks ago, I wasn't really liking my chance with the way I felt with my leg," said Djokovic.
"Then it was just a matter of survival of every single match, trying to take it to the next round."
Another curveball was thrown his way before Friday's semi-final against Paul.
His father Srdjan was pictured outside Rod Laver Arena with supporters of Russian president Vladimir Putin, creating a controversy which Djokovic said was "not pleasant" to deal with.
Nevertheless, he managed to put all these distractions behind him as he levelled Rafael Nadal's record of men's majors.
"It required an enormous mental energy really to stay present, to stay focused, to take things day by day," Djokovic said.
Few would bet against the world number one winning more majors than any other player in the history of the sport, unless Tsitsipas, Alcaraz or the rest of the younger generation – plus 36-year-old Nadal, set to go for a 15th triumph at the French Open in June – can stop him.
"Of course, 35 is not 25, even though I want to believe it is. But I still feel there is time ahead of me. Let's see how far I go," said Djokovic.