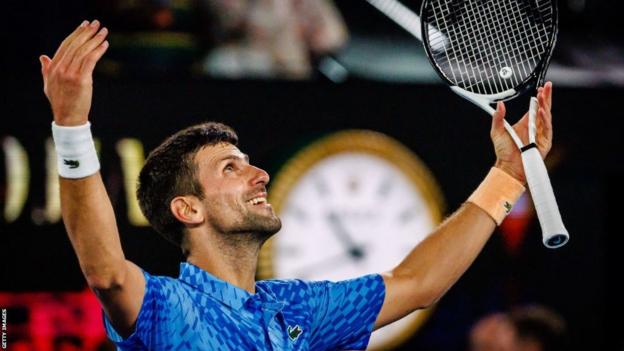 Novak Djokovic has equalled Steffi Graf's record for most weeks as world number one after starting his 377th week at the top of the men's rankings.
On Monday, he moved level with Germany's Graf, who first rose to the top of the women's rankings in 1987.
Djokovic first became world number one in 2011 and like Graf, is a 22-time Grand Slam champion.
After first becoming world number one, Graf remained at the top of the rankings for 186 consecutive weeks, a women's record that was later tied by Serena Williams in 2016.
Djokovic's longest continuous run at the top was 122 weeks between July 2014 and November 2016. For that record, he trails Roger Federer (237 weeks), Jimmy Connors (160) and Ivan Lendl (157).
Djokovic returned to the world number one position for the first time in six months by winning the Australian Open in January.
He is currently on 7,070 points, 590 more than Spain's Carlos Alcaraz.
The men's world rankings were introduced in 1973, while the women's rankings were introduced two years later.