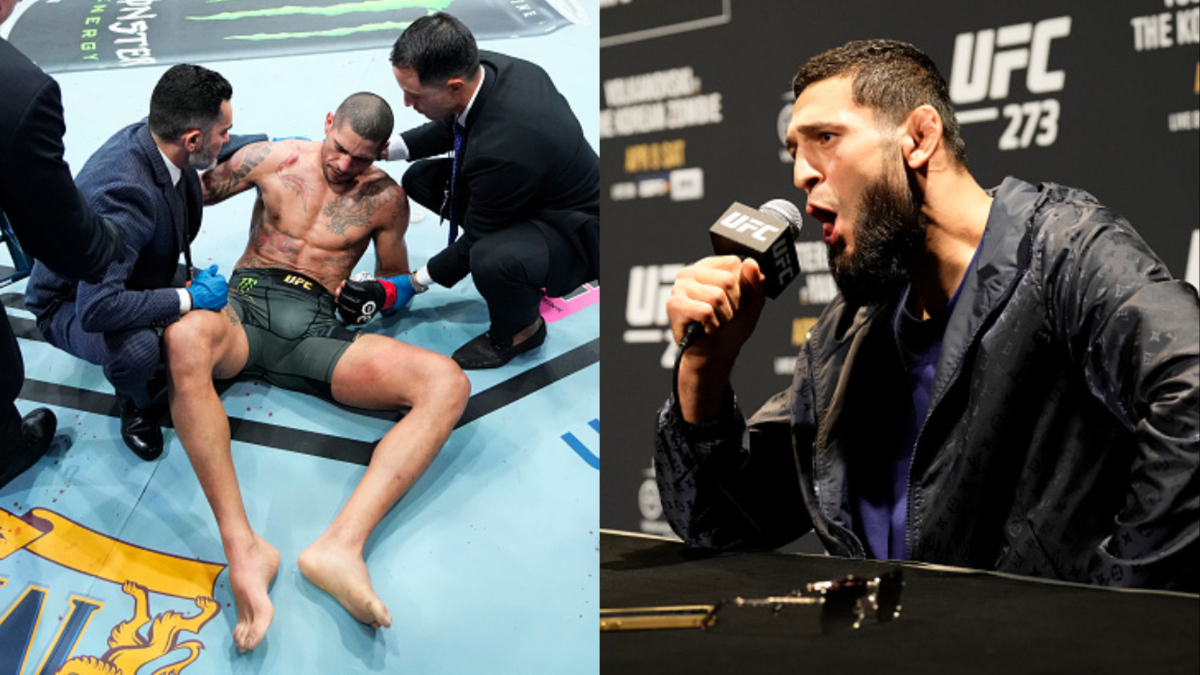 Khamzat Chimaev found it funny that the Sao Paulo menace Alex Pereira fell short at UFC 287 against his rival Israel Adesanya. After the fight, Chimaev did not hesitate to add insult to injury.
Pereira and Adesanya held the main event slot at UFC 287 in a matchup that could be considered the most important in either fighter's career. It was the fourth time the two fighters would face each other in combat. At that point, the Sao Paulo striker was 3-0 against Adesanya, with two victories in kickboxing and one in MMA.
As the fight continued, things stayed reasonably close, but 'Poatan' did look to be in the lead. He took round one, and round two was much of the same until the fateful moment when Adesanya connected with two masterful right hands to send Pereira's consciousness to a different dimension. It was a momentous occasion, and the crowd and fans across the world exploded with excitement to see such a split-second chain of events.
Khamzat Chimaev scoffs at Alex Pereira and Jorge Masvidal
From the sidelines, Chimaev thought things were pretty comical. He'd done a lot of talking in the lead up to UFC 287, and he sure didn't hesitate to continue as the event drew to a close. On Twitter, he had a message for Pereira and Jorge Masvidal.
Alex Pereira, Jorge Masvidal, goodnight for you two," Khamzat Chimaev snickered.
This wasn't the first sly comment 'Borz' had for the Sao Paulo menace. Chimaev took to The MMA Hour to callout the then champion Pereira and claim he'd be an easy fight.
"He's the most easy fight for me in the UFC," Chimaev began (H/T BJ Penn.com). "Yeah, in my career, brother. First round. First minute. Easy. No punch, nothing. If Israel trains just wrestling in this training camp, he will beat him [Pereira] easily. The guy has zero wrestling. The UFC likes to push the guy, crazy guy, he's always serious, that s***. I don't like that guy."
Things are not one-sided, however, as 'Poatan' insinuated that Khamzat Chimaev was a coward and ran away from opponents during a media day ahead of UFC 287.
"Whoever the UFC puts against me after this fight, I'll be willing and ready," Alex Pereira declared. "Talking about [Paulo Costa] 'Borrachinha' and [Robert] Whittaker, I respect them. I don't see them talking trash at me, wanting to promote themselves. Chimaev ran from everybody." 
Would a fight between Alex Pereira and Khamzat Chimaev be entertaining?