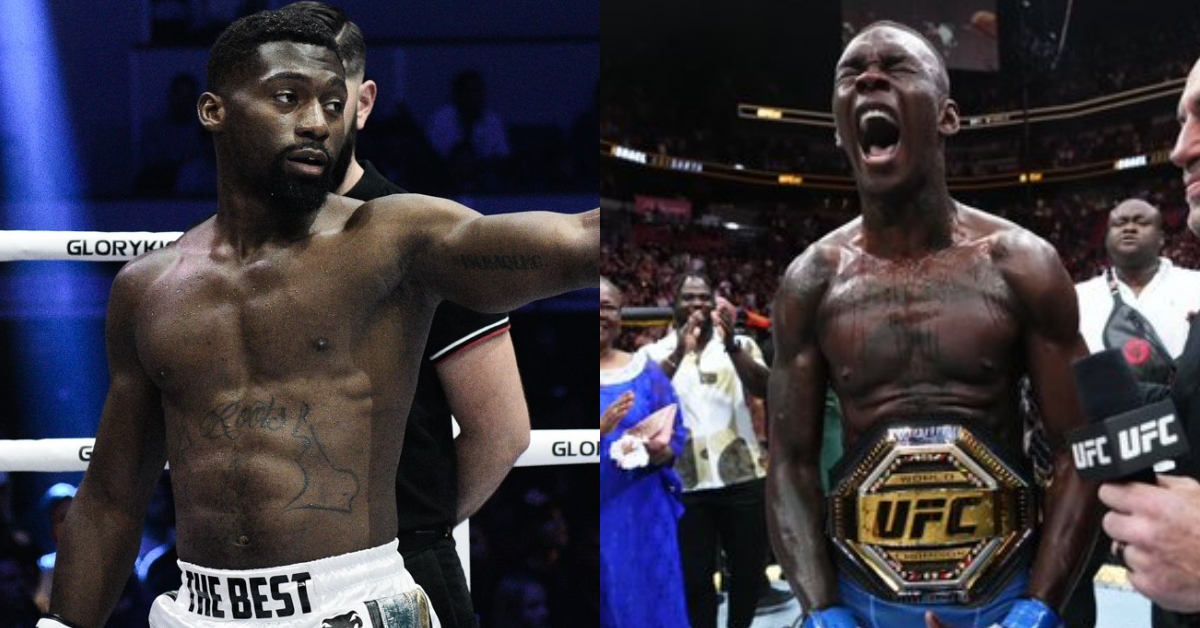 The world was watching when Israel Adesanya defeated Alex Pereira at UFC 287, and so was Cedric Doumbe. The GLORY kickboxing phenom has been slated to make a run for the upper echelon of the MMA world, and it seems his eyes are locked on target to the elusive gold that is the UFC middleweight championship.
Adesanya and Pereira gave the fans a war at UFC 287. The two had battled three times previously, with 'Poatan' defeating 'The Last Stylebender' each time. At UFC 287, however, things would end quite differently.
With his back to the cage getting rocked by vicious hooks to the body and head, Adesanya would suddenly lash out with a series of right hands that would send Pereira's consciousness to a different world.
It was a momentous occasion. Adesanya had finally defeated a seemingly unbeatable foe, and the crowd and fans across the world rejoiced. However, a GLORY kickboxing phenom was watching, and if the rumors are true: he's coming for Adesanya's throne…
Cedric Doumbe rumored to be targeting transition to MMA, sends intriguing message to Israel Adesanya after UFC 287 knockout
Holding a stunning 12-3 record in one of the world's most prestigious kickboxing organizations, Cedric Doumbe isn't a man to take lightly. Holding the GLORY kickboxing welterweight championship, he's not only defended it but defended it a multitude of times.
The rumors that he's looking to transition to MMA aren't even really rumors, per se. In fact, Cedric Doumbe has already competed in MMA. Not only that, but he currently stands at 3-0 and already had the offer to fight for the UFC with a fight scheduled and everything. Now, the fight would end up being canceled, but the opportunity was there.
With the success of Alex Pereira, Israel Adesanya and the many that have come before them, one thing that has been established is that elite kickboxers do have a potential home in MMA. While grappling can take years, if not decades, to master: the art of defending a takedown is often aided by the tall and lanky build that most kickboxers tend to possess. Not only that, but their prowess on the feet often results in them leading the dance anyways. It's known that wrestling is extremely hard to do when backing up, and with the forward pressure and confidence the elite kickboxers possess, they're mostly not easy victims when it comes to the takedown.
This is all theoretical, of course, but if Cedric Doumbe were to join any division looking to attain a championship, then the middleweight division would be supremely ideal to try and tackle that goal.
As for the cryptic message he sent Adesanya, it was as simple as this:
Cedric Doumbe is watching, and if you're in the know, you know what he's insinuating with that simple emoticon. As for when and where Doumbe will make his long-awaited UFC appearance, this is yet to be disclosed. But rest easy, as it is likely to happen and may even take place this year.
Are you a fan of elite kickboxers making the move to MMA and the UFC?