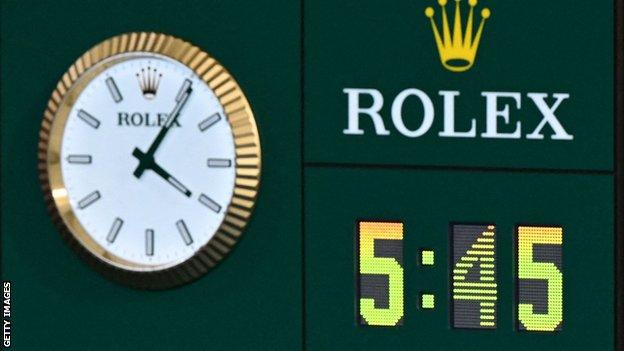 A "farce" is how Andy Murray described his 4am finish at the Australian Open and very few people – if anybody – disagreed.
Murray wrapped up a five-set win against Australia's Thanasi Kokkinakis at 4:05am local time on Friday, leading to a discussion about the tournament's scheduling and the welfare of the players.
"It's not beneficial for the umpires, the officials. I don't think it's amazing for the fans. It's not good for the players," said the British former world number one.
But why do such late finishes happen in tennis – and how does it impact the players?
The effect of sacrificing sleep
After losing his next match to Roberto Bautista Agut on Saturday, Murray revealed he had only managed three hours' sleep between 6am and 9am on Friday morning.
"I'm sure if you spoke to some sleep experts and sports scientists they would tell you sleep is the number one most important thing," he said.
Tennis players are often expected to be 'on' at all times, which could mean sacrificing sleep. However, sleep expert James Wilson rejects that.
"The idea that poor sleep leads to success is outdated, wrong and leads to people becoming ill," said Wilson, who works with a number of Premier League clubs.
"For organisers not to have a cut-off point – not just for Andy Murray but for coaches, journalists, spectators, ball boys and girls – is a machismo attitude to sleep.
"It is unnecessary for it to go on until that time. It is a reflection of how much work we have got to do to get sleep taken seriously in a high-performance environment."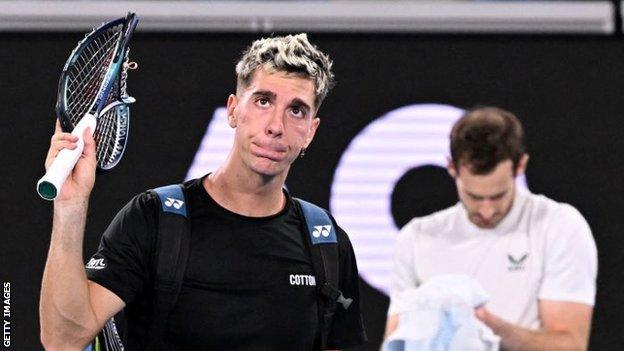 Three-time major champion Murray was back at Melbourne Park about 11am on Friday to have "seven or eight" blisters on his feet drained.
He then went for a few hours' sleep and had a light hit before returning to court 39 hours later to play Bautista Agut.
"This is a form of jet lag within an event and it is totally unnecessary," Wilson added.
"Murray's body clock would have been out of sync, he doesn't know if he should be sleeping or shouldn't."
What changes could be made?
The Australian Open puts five singles matches on the two main show courts during the opening six days – three matches during the day session from 11am, and two matches from 7pm for the night session.
If the day matches are long, then the night matches will be put back, with separate ticketing for the two sessions. Murray's match against Kokkinakis did not start until 22:20 local time.
"I think the US Open went to playing two matches in the day session. That would stop the day matches running into the night session starting too late," Murray said.
"You'd still get quality matches during the day. The people who bought ground passes would get to see more of the top players, which would be excellent for them.
"If you did that, you could also potentially bring the night sessions slightly earlier. Those few hours, can make a difference to the players."
Who benefits from these late finishes?
When Murray eventually beat Kokkinakis, there were only a few hundred hardy souls left in the stands.
The match was being shown live on Australian television broadcaster Channel Nine, who signed a new five-year deal worth A$425m (£240m) to show the tournament across the host nation between 2025 and 2029.
About 482,000 tuned in to Murray's win over Kokkinakis on Thursday night, according to Australian media analyst Mediaweek.
The viewing figures show there were 110,000 fans who watched some part of the match after 02:00 on Friday, while there was an audience of 32,000 at 04:00 – compared with 1,000 viewers 24 hours before.
In the UK, which is 11 hours behind Melbourne, the timing was much more beneficial. BBC Sport's live page, which houses text and radio commentaries, had 4.2m views across the website and app.
Novak Djokovic, the nine-time men's champion in Melbourne, agreed with Murray that the late finishes were too gruelling, adding the "players' input is always important for tournament organisation".
But he warned: "We know that it's not decisive because it comes down to what the TV broadcasters want to have. That's the ultimate decision maker."
But is there an appetite to change it?
As well as Murray's idea to only put on two day matches, another suggestion has been to play just one match in the night session.
But Australian Open tournament director Craig Tiley said on Friday there was "no need" to change the scheduling "at this point".
"You would expect from 7pm to 12am, in that five-hour window, you would get two matches," Tiley told Channel Nine.
"We also have to protect the matches. If you just put one match at night and there's an injury, you don't have anything for fans or broadcasters."
Another suggestion has been to bring in a curfew such as that at Wimbledon, where play cannot go on past 23:00.
Jamie Murray – a seven-time major doubles champion and Andy's older brother – is not so sure.
"I think there are other ways around it," he said.
"It helps if they have just one night match that starts at 7pm. Then they can worry about if someone gets injured."
Players

Tournament

Finish time (local)

Alexander Zverev bt Jenson Brooksby

Acapulco 2022, first round

04:54

Lleyton Hewitt bt Marcos Baghdatis

Australian Open, third round, 2008

04:34

Andy Murray bt Thanasi Kokkinakis
Australian Open, second round, 2023
04:05

Sam Querrey/Jack Sock bt Simone Bolelli/Fabio Fognini

Davis Cup, 2019

04:04

Andreas Seppi bt Bobby Reynolds

Australian Open, first round, 2007

03:34
Tiley also pointed to the unpredictability of Melbourne's weather for making changes difficult.
On Tuesday, matches were delayed because of extreme heat early in the afternoon before being suspended in the evening because of torrential rain.
"We always look at it when we do the debrief. We've got to fit the matches in the 14 days so you don't have many options," he said.
American world number three Jessica Pegula, who is on WTA Players' Council, said the 4am finish was the main talking point among players.
"It is ridiculous to be asking people to be there at that time," she told BBC Radio 5 Live.
"I definitely think it needs to change and it is something we want to discuss, but [it] also has to come from the men's side. I'm sure we will talk about it."
Analysis
Philippa Roxby, health reporter, BBC News
Timing is everything with the human body.
Natural rhythms mean it is programmed to be active during the day and sleep at night.
Messing about with this internal clock can affect everything from body temperature to mood, brain function and performance.
Just think of the wearying feeling of jet leg after flying to a different time zone, or the exhaustion of countless night shifts.
Tennis players involved in night matches have to try to shift their sleep-wake patterns so their bodies think it's earlier than it really is.
They are fighting against the effects of the hormone melatonin – released by the body to let the brain know it's time to sleep.
Napping during the day can help, although the stimulation of the bright lights and spectators' roars during a match prevent the body going into a sleep state.
But there will still be peaks and troughs of athletic ability over a long match.
Good preparation, recovery and fitness levels are vital, experts say, to coping with night-time performances.
And getting enough good quality sleep is fundamental to health.
The longer the night matches go on, the more likely the routine can contribute to fatigue and burnout.
Another challenge for elite players is timing their own individual body clock to achieve peak performance whenever they are scheduled to play – day or night.