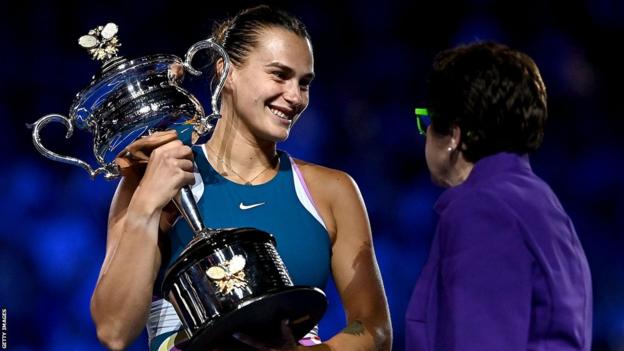 Venue:
Melbourne Park
Dates:
16-29 January
Coverage:
Commentary every day from 07:00 GMT on BBC Radio 5 Sports Extra 'Tennis Breakfast' live from Melbourne, with selected live text commentaries and match reports on the BBC Sport website & app
Australia was not a happy hunting ground for Aryna Sabalenka 12 months ago.
The start of 2022 saw her exit the pre-major Adelaide International event at the hands of a qualifier, her serve so poor she was left in tears and rolling them in underarm as her double fault tally hit 21.
The Australian Open didn't fare much better, the then-second seed sent packing in the fourth round at the start of a year that saw her serve 428 double faults – 151 more than any other player on the WTA Tour.
But 2023 marks a fresh start. And Belarusian Sabalenka is starting it as a Grand Slam champion.
Yes, the double faults are still there, starting the Australian Open final against Elena Rybakina with one on her very first serve, later squandering her first championship point with another. But they are fewer and further between, her hard yards in the off-season coming good at the right time.
"Well, it was a good start for me," Sabalenka, 24, joked after her maiden singles major win. "I was like, well, it's going to be fun after the double fault."
Fun it was, at least for the viewer, as an enthralling final got under way.
After that double fault, it didn't get much better for Sabalenka as Wimbledon champion Rybakina took the early initiative, Sabalenka conceding a set for the first time this season.
But she had not lost her previous six Slam matches after dropping the first set and that was a stat she wasn't prepared to give up on. And so the fightback began.
In the battle of the big hitters, Sabalenka forced a decider on Rod Laver Arena, getting the all-important break before – with the nerves in full flow – finally clinching the biggest win of her career 4-6 6-3 6-4 on her fourth championship point.
"I think it's even more enjoyable after all those tough matches," she said. "I really feel I needed those tough losses to understand myself a little bit better. It was like preparation for me.
"I actually feel happy that I lost those matches, so right now I can be a different player and just [a] different Aryna, you know?"
A different, considerably calmer, Aryna indeed, courtesy of work with a psychologist and biomechanics expert to correct her wayward serving.
Tonight, she will celebrate with the team who got her to this point. It is not the best day of her life – that is reserved for the day she met her boyfriend – but the celebrations will be as if it were.
Pizza, sweets and a "little bit of champagne" are on order, the latter already started on as she sipped a glass during her press conference.
"I will eat everything that I couldn't all this week," she said. "My mum and my grandma are fighting right now for this trophy. I will put it back home where I keep all these trophies."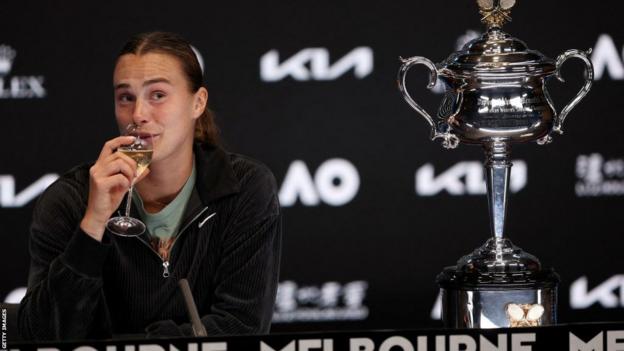 What now for Wimbledon?
A Belarusian winning the first Grand Slam of the season will inevitably raise a big question for the third. Will Sabalenka be allowed to compete at Wimbledon?
Last year, the answer was no, the grass major banning Russians and Belarusians from playing after Russia's invasion of Ukraine but organisers are yet to make a decision on the 2023 tournament.
Sabalenka continues to compete under a neutral flag and there will be no mention of her home nation etched next to her name on the trophy, but she batted away questions about the topic with a simple answer: "I think everyone still knows that I'm Belarusian player."
She has previously spoken about how upset she was after being banned from Wimbledon, unable to bear watching on TV and instead throwing herself into gym work.
It meant she likely did not watch Rybakina, her Moscow-born opponent who represents Kazakhstan, lift her first Grand Slam title on Centre Court last July.
Rybakina will reach the world top 10 for the first time when the rankings are updated on Monday, having not benefited from the boosted ranking points a Grand Slam title normally brings after Wimbledon had its stripped.
Rybakina, 23, has now lost all four of her meetings with Sabalenka, all of which have been decided in three sets – yet she will not dwell on a missed opportunity, knowing that with a higher ranking, more will soon come.
"I would say that not many girls can put me really under that sort of pressure," she said of her opponent.
"I just knew that I had to serve well. It's also pressure in the end, as soon as I have an opportunity, take it.
"Today I had some opportunities and didn't take. The match didn't go my way."